CONSULTATION HOURS
PHONE 9746 7789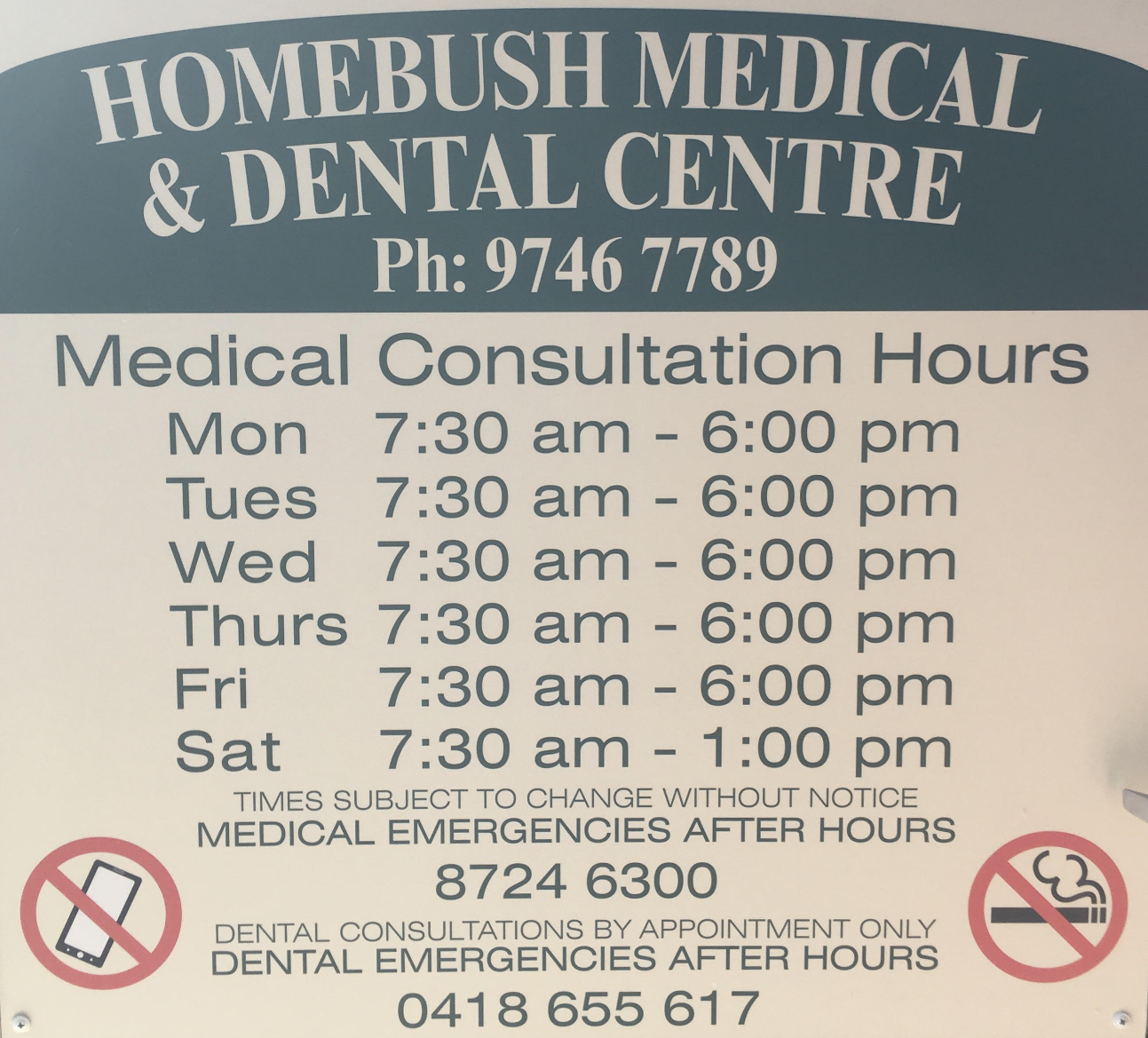 Monday to Friday: 7:30am - 6:00pm.
Saturday: 7:30am - 1:00pm.

All surgery hours and consultation hours are subject to change without notice on certain occasions.
Appointments: Please phone 9746 7789 for all appointments. Every effort will be made to accommodate your preferred time and doctor of preference. Emergencies will always be given priority and our reception staff will attempt to contact you if there are any unforeseen delays or your doctor had been called away. This practice will see walk in patients as well. Wait time may be prolonged if an appointment was not prior
arranged.

Longer Consultations: Longer consultation times are available, so please ask our receptionists if you require some extra time. If you or your family member requires an interpreter service, we can organise this for you, please let us know when you make the appointment.
Home Visits: Home Visits are available for regular patients whose condition prevents them from attending the surgery. The routine home visits are usually done between the hours of 1pm and 3pm. Patients are kindly requested to ring the surgery preferably before 12 noon to book these visits. However calls will be accepted in emergency cases and other times as well. In the case of an emergency home visit, the reception staff will transfer the call through to the appropriate Doctor. It is then up to the Doctor to decide if the Home Visit requires their immediate attention.

Emergency Contact: We would like to inform all patients to update their details, including an emergency contact phone number.
After Hours Service: This practice provides 24-hour care for patients. This is made possible with the help of the Sydney Medical Co- Operative Limited. They can be contacted on 8724 6300. This service is available from 7pm - 8am Monday to Friday and on Weekends and Public Holidays 24 hours a day. Doctors in this practise maybe contacted at or through the surgery on 9746 7789. For all other emergencies for Hospital/Ambulance ring 000.
AFTER HOURS
MEDICAL 8742 6300
DENTAL 0418 655 617
EMERGENCIES RING 000